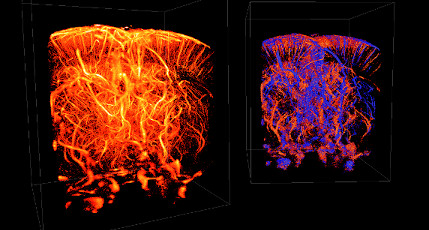 Baptiste Heiles wins a Research Picture Award at IEEE IUS
Our PhD student Baptiste Heiles has won the third Prize of the Visualising Physical Acoustics Research Picture Competition of the IEEE International Ultrasound Symposium, which took place in Glasgow between October 6th and October 9th 2019.
The competition consisted in submitting a visually appealing scientific picture with a short description of how it was created. The three best pictures were selected based on their general appearance and their relevance in the field of physical acoustics.
The picture submitted by Baptiste Heiles shows volumetric maps of the vasculature obtained in vivo in a rat brain using ultrasound superlocalization microscopy. (See figure above: left – vascular map of a rat brain, rght – flow velocities.) This work is part of his PhD thesis, which is supervised by Olivier Couture and Mickael Tanter.